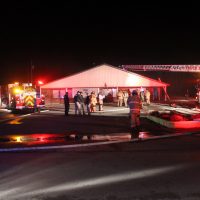 HARDINSBURG (11/22/19) — Units from the Hardinsburg Fire Department were called to Jake's Place on old Highway 60 just before 6:30 Friday evening on a report of smoke coming from the building.
According to a statement from the Hardinsburg Fire Department, units arriving on scene found heavy smoke coming through the roof line.  The fire was brought under control within 30 minutes. Heavy fire and heat damage was reported in the kitchen area of the restaurant.
The cause and origin appears to have been a faulty electrical outlet in the back of the restaurant.
No injuries were reported. A section of old Highway 60 was blocked off to traffic with the response. Firefighters remained on scene until around 8:30 Friday evening.
Breck Central EMS, Hardinsburg Police, County Health Department and Meade County RECC were also called to the scene.