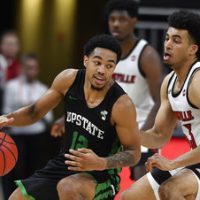 LOUISVILLE, Ky. (AP) — Ryan McMahon made consecutive 3-pointers and Dwayne Sutton and Darius Perry had one each during a second-half surge that rallied No. 2 Louisville past USC Upstate 76-50. The Cards trailed by three with 14 minutes left in the game when Sutton's 3 tied it before McMahon added another in a 24-5 run to put the game away. 
BLOOMINGTON, Ind. (AP) — Joey Brunk scored a season-high 16 points and Devonte Green added 16 to lead the Indiana Hoosiers past Princeton 79-54. The Hoosiers are off to their first 5-0 start since 2013-14.
UNDATED (AP) — The NCAA has cleared heralded Memphis freshman James Wiseman to return to the basketball court on Jan. 12. Wiseman will sit out a total of 12 games under a decision announced Wednesday by the NCAA. Wiseman also must donate $11,500 to charity to regain his eligibility. Wiseman has already missed one game.
LOS ANGELES (AP) — Lou Williams scored 27 points and Kawhi Leonard combined with Paul George for 42 points in their first game together as the Clippers rallied to knock off the Celtics, 107-104 in overtime. George provided 25 points and Leonard added 17 before blocking Kemba Walker's potential tying 3-point attempt.
ATLANTA (AP) — Giannis Antetokounmpo poured in 33 points and Eric Bledsoe added 28 in the Milwaukee Bucks' fifth straight win, 135-127 against the Hawks. Rookie De'Andre Hunter finished with a career-high 27 points and Trae Young scored 25 in Atlanta's fourth straight loss.
DALLAS (AP) — Luka Doncic scored 33 of his 35 points in the first half of the Dallas Mavericks' 142-94 laugher against the Golden State Warriors. Doncic was 10 of 11 from the field, including 6-for-7 from 3-point range. He also had 10 rebounds and 11 assists in his league-leading seventh-triple double of the season despite playing only 25 minutes.
DENVER (AP) — The Houston Rockets scored fewer than 100 points for the first time all season as the Nuggets limited James Harden to 16 shots in a 105-95 victory. Harden finished with 27 points, snapping his string of eight consecutive games of 36 or more. Other NBA winners from Wednesday were Washington, Philadelphia, Toronto, Miami, Brooklyn, Chicago and Utah.
CHARLOTTE, N.C. (AP) — Seven-time NASCAR champion Jimmie Johnson says 2020 will be his final season of full-time racing. Johnson has 83 career victories, tied with Cale Yarborough for sixth all-time but has not won a race since 2017. His seven titles are tied with Richard Petty and Dale Earnhardt for most in the Cup Series.