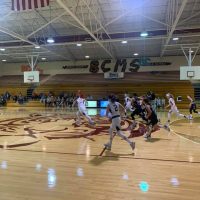 UNDATED (11/19/19) — In middle school basketball from Tuesday, Breckinridge County boys defeated Cloverport in both games, 39-14 in the 7th and 60-17 in the 8th grade game. The Lady Tigers were winners against Edmonson County, the 7th grade by a score of 30-12 and the grade, 41-22. 
LOS ANGELES (AP) — LeBron James became the first player in NBA history to record a triple-double against every team in the league, and Anthony Davis scored 34 points during the Los Angeles Lakers' fifth straight victory, 112-107 over the Oklahoma City Thunder Tuesday night. James posted 25 points, 11 rebounds and 10 assists to boost the NBA-leading Lakers, who have won 12 of 13.
MEMPHIS (AP) — The Golden State Warriors have snapped a seven-game losing streak with a 114-95 victory over the Memphis Grizzlies. Alec Burks scored a season-high 29 points, Glenn Robinson III added 20 for the Warriors. Draymond Green was just short of his 24th career triple-double with 8 points, 10 rebounds and 11 assists.
UNDATED (AP) — Elsewhere in the NBA, the New Orleans Pelicans spoiled Carmelo Anthony's Portland debut with a 115-104 victory over the Trail Blazers. Bogdan Bogdanovic set career highs with 31 points and seven 3-pointers, and the Sacramento Kings beat the Phoenix Suns 120-116.
UNDATED (AP) — The College Football Playoff rankings were unchanged at the top this week, with LSU first followed by Ohio State, Clemson and Georgia. The selection committee's third weekly rankings had little movement in the top 10, with Alabama fifth followed by Oregon, Utah, Penn State, Oklahoma and Minnesota.
UNDATED (AP) — Antonio Brown has apologized to the Patriots and team owner Robert Kraft for any negative attention he brought to the team during his brief stint in New England. The four-time All-Pro receiver posted his apology on Instagram Tuesday. It comes on the heels of past posts in which he indicated he'd fight the Patriots' decision to withhold a $9 million signing bonus.
FRANKFORT, Ky. (AP) — Three Republican lawmakers in Kentucky say they plan to introduce a bill that would make intimidating sports officials a misdemeanor offense. State Rep. Randy Bridges of Paducah said Tuesday that the measure aims to restore respect for sports officials.
LEXINGTON, Ky. (AP) — A group of horse racing organizations has announced the formation of a coalition to promote enhanced safety protections and work together to develop new reforms in a sport roiled by a series of equine deaths. The Thoroughbred Safety Coalition includes Churchill Downs Inc., the New York Racing Association and The Stronach Group, along with Breeders' Cup Ltd., Del Mar and Keeneland racetracks.
(Image: Facebook/BCMSTigers)