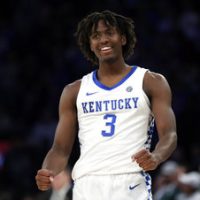 NEW YORK (AP) — Tyrese Maxey, Kentucky's latest freshman star, scored 26 points and the second-ranked Wildcats opened the season with a 69-62 victory against No. 1 Michigan State in the Champions Classic at Madison Square Garden. The Nos. 1 and 2 teams opened their season against each other for the first time since 1975.
CORAL GABLES, Fla. (AP) — Jordan Nwora's 23-point performance included four 3-pointers and a throwdown dunk to help No. 5 Louisville open its season by beating Miami of Florida, 87-74. Nwora, the preseason ACC player of the year, shot 8 for 16 and had 12 rebounds in 31 minutes.
BOWLING GREEN, Ky. (AP) — Carson Williams and Charles Bassey scored 16 points apiece and Western Kentucky beat Tennessee Tech 76-64 on Tuesday night. Camron Justice's 3-pointer before halftime gave Western Kentucky a 35-23 lead and the Hilltoppers led by double figures the rest of the way. Justice finished with 15 points.
BLOOMINGTON, Ind. (AP) — Justin Smith scored 24 points while Al Durham added 21 as the Indiana Hoosiers opened their season with a 98-65 win over Western Illinois.  Durham 7 of 7 from the field, including 3 of 3 on 3-pointers and 4 of 4 from the free-throw line. Plus, he had four rebounds and three assists.
UNDATED (11/05/19) — In girls middle school basketball from Tuesday, Breckinridge County's Lady Tigers split a doubleheader from Ohio County: the 7th grade lost, 27-23, but the 8th grade won by the same 27-23 score.
CLEVELAND (AP) _ Gordon Hayward hit all 16 of his 2-point attempts while scoring a career-high 39 points as the Boston Celtics downed the Cavaliers, 119-113 in Cleveland.  LeBron James recorded his third consecutive triple-double by providing 30 points, 11 assists and 10 rebounds in the Lakers' 118-112 victory at Chicago. Other NBA winners from Tuesday were Charlotte, Atlanta, Oklahoma City and Denver.
UNDATED (AP) — Ohio State, LSU, Alabama and Penn State are the top four in the College Football Playoff selection committee's first rankings of the season. Next up were defending national champion Clemson, Georgia and Oregon. The 13-member committee will produce four more sets of rankings each Tuesday through the final selections on December 8th.
UNDATED (AP) _ The Carolina Panthers have placed quarterback Cam Newton on injured reserve. Newton has missed the last six games while trying to battle back from a mid-foot sprain. Newton was the league's MVP in 2015, but has lost his last eight starts dating to last season.