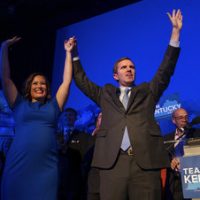 LOUISVILLE, Ky. (AP) — Kentucky's bitter race for governor went into overtime as Democrat Andy Beshear declared victory while Republican Gov. Matt Bevin, a close ally of President Donald Trump, refused to concede with results showing he trailed by a few thousand votes.
Kentucky has some sorting out to do before inaugurating its next governor.
With 100% of precincts reporting, Beshear — the state's attorney general and the son of Kentucky's last Democratic governor, Steve Beshear — had a lead of 5,333 votes out of more than 1.4 million counted, or a margin of less than 0.4 percentage points. The Associated Press has not declared a winner.
In competing speeches late Tuesday, Beshear claimed victory while Bevin refused to concede.
"My expectation is that he (Bevin) will honor the election that was held tonight," Beshear said. "That he will help us make this transition. And I'll tell you what, we will be ready for that first day in office, and I look forward to it."
That first day isn't far off. Kentucky inaugurates its governors in the December following an election.
Bevin, meanwhile, called the contest a "close, close race" and said he wasn't conceding "by any stretch."
"We want the process to be followed, and there is a process," he said.
Bevin hinted there might be "irregularities" to look into but didn't offer specifics. His campaign didn't immediately respond to an email seeking an explanation.
There is no mandatory recount law in Kentucky. Bevin may request counties recanvass their results, which is not a recount, but rather a check of the vote count to ensure the results were added correctly. Bevin would need to seek and win a court's approval for a recount.
The final hours of campaigning were dominated by the endorsement Bevin received from Trump at a boisterous rally Monday night in Lexington, Kentucky. Through a spokesman, the president boasted Tuesday night about the boost he had given the incumbent governor despite Bevin finishing with fewer votes to his name.