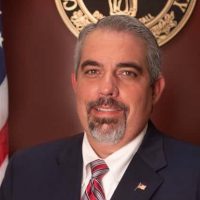 UNDATED (11/05/19) — Breckinridge County Attorney Bradley Butler won the election for the unexpired term of District Judge in Division One of the 46th Judicial Circuit in Tuesday's general election.
With all precincts reporting in Breckinridge, Grayson and Meade Counties, Butler totaled 10.786 votes (52.10%) to Beth Constant Ratley's 6,532 (31.55%) and Zanda Myers 3,384 (16.35%).
Butler carried all three counties in the vote to fill out the remainder of the term of Kenneth Harold Goff II, who was appointed to the Circuit Court Bench following the death of Robert Miller earlier this year. Goff was unopposed for the Circuit Bench.
The other local race on the ballot in Breckinridge County was for an unexpired term on the Cloverport Board of Education. Laura Sims won the race with 171 votes, followed by write-in candidate Tim Mattingly with 99, followed by Misty Woods with 41 and Tammy Fetch with 40.
Voters in Grayson (and portions of Hardin) County elected Republican Samarra Heavrin to fill out the term of Tim Moore as 18th District State Representative. Results showed Heavrin receiving 8,655 votes to Democrat Becky Miller's 5.701. Moore resigned from the seat earlier this year.
In Hancock County, voters approved alcohol sales on a countywide basis and within the city of Hawesville. Numbers from the countywide referendum showed 2,183 votes in favot to 1,377 against. The sales question was approved in the city of Hawesville on a 224-155 vote.