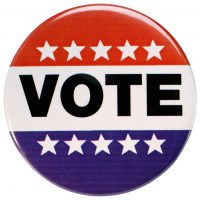 HARDINSBURG (11/05/19) —  Voters are heading to the polls today to cast ballots for statewide constitutional offices among other races on Election Day 2019. In Breckinridge County (along with Grayson and Meade), voters will decide among three candidates for an open District Court bench. In Cloverport, a special election is being held for a position on the Board of Education.
There's also some races in neighboring counties of note: In Hancock County, voters are deciding today if alcohol sales will be allowed in the county. In Grayson County (and portions of Hardin County), voters are deciding on an open State Representative's seat.
County Clerk Jared Butler told WXBC Monday afternoon he says turnout could reach 40 percent in the county today. Polls are open from 6am to 6pm and anyone in line at 6pm will be allowed to vote.  He also reminds voters to have their I.D.'s ready to help things move more smoothly at the polling locations. Butler also reminds voters that the Irvington precinct will vote at the Holy Guardian Angel Parish Hall & Harned voters will cast their ballots at the Mt. Zion Family Life Center on Highway 259.
WXBC will have updates starting in the 5pm hour (Central time) this afternoon and precinct-by- precinct returns from the Courthouse in the 6pm hour.