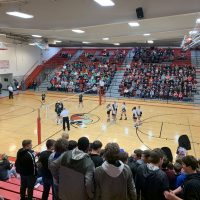 LEWISPORT (10/31/19) — Breckinridge County High School Lady Tiger volleyball was denied a repeat as Region Champs, losing in five sets to Owensboro Catholic. The Lady Tigers trailed two sets to one (25-13, 26-28, 18-25) but rallied to win the fourth (25-23), but lost the fifth set, 21-19. The Lady Tigers end the season with 31 wins and 5 losses.
UNDATED (11/01/19) — The Breckinridge County High School Fighting Tiger football team wraps up their season tonight with the game at Hancock County. Coverage on WXBC begins with "Tiger Talk" around 6:30 and kickoff set for 7 this evening.
PHOENIX (AP) _ Jimmy Garoppolo threw for 317 yards and four touchdowns and the San Francisco 49ers reach the halfway point of their season undefeated, beating the Arizona Cardinals 28-25 Thursday night. San Francisco fell behind 7-0 early, but responded with three touchdowns.
ATLANTA (AP) — Kendrick Nunn scored a career-high 28 points to lead the Miami Heat to a 106-97 win over the Atlanta Hawks. Miami beat Atlanta for the second time in three days. Nunn has scored the most points through his first five games for any undrafted player in NBA history. He has piled up 112 points.
NEW ORLEANS (AP)_ Jahlil Okafor scored 26 points, Brandon Ingram added 25 and the New Orleans Pelicans beat the Denver Nuggets 122-107 for their first victory in five games this season. Ingram has scored at least 22 points in each of his first five games for New Orleans after coming over from the Los Angeles Lakers.
UNDATED (AP) _ Kawhi Leonard scored 38 points, Montrezl Harrell added 24 and the Los Angeles Clippers defeated San Antonio 103-97, handing the Spurs their first loss. Leonard- who sat out Wednesday's game at Utah- also grabbed 12 rebounds for his first points-rebounds, double-double this season.
NEW YORK (AP) — Philadelphia center Joel Embiid and Minnesota center Karl-Anthony Towns have each been suspended two games without pay for an on-court altercation and continued escalation. The star players were ejected after tangling with 6:42 left in the third quarter and the 76ers ahead 75-55. Embiid shoved Towns, who answered with a punch that missed as both men fell to the floor.
KANSAS CITY (AP) _ Former St. Louis Cardinals manager Mike Matheny will get another shot on the other end of the state. The Kansas City Royals hired Matheny as manager. He managed the Cards from 2012-18, going 591-474 and becoming the first manager to reach the postseason his first four seasons. Matheny was fired in July 2018 by the Cardinals.
SAN DIEGO (AP) — Jayce Tingler was presented as San Diego's manager on Thursday. The 38-year-old is a first-time big league manager and takes over a team that last had a winning record in 2010. San Diego has not hired a manager with prior big league experience since Jack McKeon in 1988.