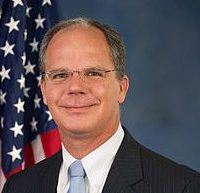 HARDINSBURG (10/09/19) — Second District Congressman Brett Guthrie weighed in on the impeachment issue during an interview that aired Wednesday morning on WXBC.
Democrats have cited an unidentified whistle blower's assertion of a phone call between President Trump and Ukrainian leaders to dig up information about former Vice President and current Presidential candidate Joe Biden…
Guthrie said there must be "clear and convincing" evidence that a crime rising to the level of impeachment must be made for him to vote in favor, and that case as currently known has not been made to his satisfaction.
President Trump released the transcript of the phone call and has dismissed the inquiry ordered by House Speaker Nancy Pelosi as politically motivated.
Guthrie told Lee Bramlett that he doesn't think there should be a vote to impeach, but the Democrat-controlled House will likely to vote to impeach the President.
The Bowling Green Republican said the impeachment process will likely take months before going to the Republican-led Senate, which would conduct a trial for removal of President, which will take time and effectively shut down any Congressional business other than essential functions at a time when Guthrie and other lawmakers are looking into the opioid crisis, e-cigarettes and other medical pricing issues.