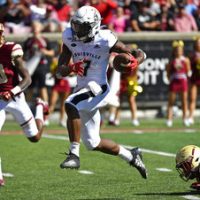 LOUISVILLE, Ky. (AP) — Blanton Creque's 41-yard field goal with 1:02 left edged Louisville past  Boston College, 41-39, on Saturday to end a nine-game ACC losing streak.
Shortly after Aaron Boumerhi's 45-yard field goal with 3:32 left put the Eagles ahead 39-38, the Cardinals (3-2, 1-1) drove 52 yards in eight plays for Creque's line drive that sailed through the uprights. BC (3-3, 1-2) drove to its 46 before turning the ball over on downs, and Louisville won the shootout for its first conference win since Nov. 18, 2017.
The schools combined for 1,227 yards, most of it passing in a contest that matched the ACC's top two rushing attacks. Louisville gained the edge 664-563, helped by those final yards ending with Creque's second field goal.
-0-
NORFOLK, Va. (AP) — Gaej Walker ran 25 times for 114 yards and a touchdown to help Western Kentucky beat Old Dominion 20-3 on Saturday night.
Walker's 1-yard TD run gave the Hilltoppers (3-2, 3-0 Conference USA) the lead for good at 10-3 late in the second quarter.
Cory Munson kicked his second field goal to extend the lead in the third quarter and Ty Storey's 12-yard pass to Joshua Simon capped the scoring with 7:58 left in the game.
Storey finished 21 of 28 for 193 yards, one touchdown and one interception. Jahcour Pearson caught seven passes for 67 yards.
-0-