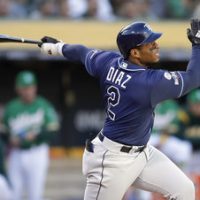 OAKLAND, Calif. (AP) _ Yandy Diaz hit a pair of solo homers and the Tampa Bay Rays advanced to the American League Division Series against Houston by downing the Oakland Athletics, 5-1 in the AL wild-card game. Diaz homered in his first two at-bats to sandwich a two-run blast by Avisail Garcia. Charlie Morton allowed an unearned run and five hits over five innings to help the Rays reach the division series for the first time since 2013.
HOUSTON (AP) _ Houston Astros manager A.J. Hinch expects shortstop Carlos Correa to play on Friday _ the AL Division Series opener. Correa missed the last week of the regular season because of a sore back. Hinch says Justin Verlander will start Game 1 on Friday against Oakland or Tampa Bay, followed by Gerrit Cole and Zack Greinke 
ATLANTA (AP) _ First baseman Freddie Freeman and outfielder Ronald Acuña Jr. say they are healthy for the Atlanta Braves' NL Division Series against the Cardinals. Acuña has not played since Sept. 24 due to tightness in his left hip, ending his chase for a rare 40-40 season. Freeman has struggled with bone spurs in his right elbow and at one point last month could not straighten his right arm.
CLEVELAND (AP) _ The Cleveland Indians are exercising ace Corey Kluber's $17.5 million option for next season. The right-hander was limited to just seven starts after breaking his right arm on May 1, when he was hit by a line drive during a start in Miami. The team is declining options on second baseman Jason Kipnis and reliever Dan Otero.
UNDATED (AP)_ The Cincinnati Bengals have placed receiver John Ross III on injured reserve. Ross landed hard on his right shoulder during a 27-3 loss in Pittsburgh on Monday night. He's eligible to return later in the season if the shoulder heals. Ross led the Bengals with 328 yards receiving and three touchdown catches.
UNDATED (AP) _ Cleveland Browns linebacker Christian Kirksey has undergone season-ending surgery to repair a torn pectoral muscle. Kirkesy was injured against the New York Jets on Sept. 16 and placed on injured reserve five days later. The Browns expect Kirksey to make a full recovery. Rookie Mack Wilson is starting in Kirksey's spot.
UNDATED (AP) _ The Patriots have placed kicker Stephen Gostkowski on injured reserve without disclosing his ailment. Gostkowski has appeared in every game for New England since 2011. But he's struggled thus far in 2019, missing four extra points.
UNDATED (AP) _ NFL ratings through the first four weeks of the regular season have shown a 5% increase over last season. According to the league and Nielsen, games are averaging 16.6 million viewers on television and digital platforms. NBC's "Sunday Night Football" has shown the biggest jump among the weekly packages with a 6% increase.