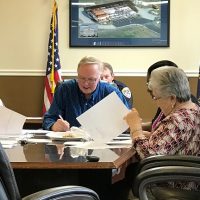 9/9/2019—The Hardinsburg City Council approved the second reading of an ordinance setting tax rates for the current year at their regular meeting Monday evening.  The personal property tax rate is 34 cents per $100 assessed valuation.  The Fire Department tax rate is 3 cents, and the motor vehicle tax rate is 28 cents.
In other business, the Council approved a resolution to refinance bonds at a lower interest rate through 2046.  Bryant Skinner, with Ross, Sinclaire, and Associates, said the interest rate would drop from the current 4.125% to below 3.5%.  Because of the lower interest rate, the city could save $441,125.58 over the next twenty-six years.
The Council approved a revised list of streets that will be patched and paved, at an estimated cost of the $157,863.45. Veolia Project Manager Mike Masterson said the City could receive an additional $250,000 from the Kentucky Transportation Department for paving needs.  Masterson the money would be used to resurface Old Highway 60 from Oak Street to the By-Pass.
Police Chief Mike Robinson said his Department made eight felony, and 16 misdemeanor arrests in August.  They issued twelve citations and responded to 180 911 calls.  All officers passed firearms qualification on August 8.
The Fire Department made 55 runs in August.  The Department is having the firehouse exterior and interior painted, and adding landscaping.  The cost of the project is $18,500.
Glenn Jackson, Planning and Zoning Commissioner, said several commercial properties are being constructed within the city limits.
Mike Masterson said the St. Romuald water line relocation project will be completed within two weeks.
The Council went in to executive session to discuss acquisition of property, but took no action when they returned to open session.