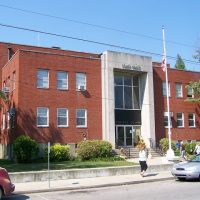 9/9/2019—Magistrates set tax rates for the current year at a Special Called Meeting of Breckinridge Fiscal Court Monday morning.  The personal property tax rate is 11.3 cents per $100 assessed valuation.  The motor vehicle tax rate is 13.1 cents.  The vote was 6-0.  Fourth District Magistrate David Albright did not attend the meeting.  A public hearing was held prior to the meeting, but no one spoke.
In other business, Magistrates approved the Health Board tax rate of 3.1 cents per $100 assessed valuation.
The Court approved a resolution to finance a lease agreement on a MACK truck.  The agreement is for eighteen months with an interest rate of 3.99 per cent.
In personnel matters, Kala Hardin was hired to replace Nicole Shor as Animal Control Officer.  Her salary is $29,580 per year.  Shor resigned, but will work part-time to assist Hardin while she trains for her certification.  James Robert Horsley was transferred from part-time to full-time employee at the Animal Shelter.
Mike Kinsman was hired as mechanic at the Road Department, effective September 10.  He will be paid $14.50 per hour.  William Horton was hired as a truck driver at $13.26 per hour.  Robert Arnold was transferred from mechanic to truck driver for the Road Department.