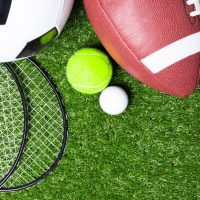 UNDATED (08/13/19) — High school sports are getting underway this week. The Breckinridge County High School boys golf team opened with a 167-227 win over Hancock County on Monday; Shelton Smith turned in the low round for the Tigers with a 39 (Other scores: Hunter Barr 41 Lincoln Smith 43 Ethan Lucas 44 Mercer Rogers 49). In girls soccer, the Lady Tigers lost to Taylor County by the score of 4-1. They travel to Meade County tomorrow. 
LEXINGTON, Ky. (AP) — Kentucky coach Mark Stoops knows it's asking a lot to duplicate last season's success highlighted by 10 wins and a Citrus Bowl victory. Stoops is nonetheless confident Kentucky can remain competitive with some returning starters and veteran reserves eager to step up after playing behind some of the program's best players.
INDIANAPOLIS (AP) — The NCAA has backtracked on its new agent certification standards It will no longer require a bachelor's degree for those permitted to represent Division I men's basketball players who declare for the NBA draft while maintaining their college eligibility. The degree requirement drew criticism last week, including by NBA star LeBron James.
WASHINGTON (AP)_ Trea Turner and Matt Adams homered, Erick Fedde pitched well after allowing a solo shot on the game's first pitch and the depleted Washington Nationals held on to beat the Cincinnati Reds 7-6. The Nationals were coming off a 5-4 road trip that left them tied for the lead in the NL wild-card race. Other National League winners were Pittsburgh and Arizona.
CLEVELAND (AP) _ Carlos Santana homered leading off the ninth inning to send the Indians to a 6-5 win over the fast-fading Boston Red Sox. That propels Cleveland back into first-place in the AL Central for the first time since April 19. Other American League winners were: the Yankees, Toronto and Tampa Bay.
NEW YORK (AP) _ Major League Baseball will open its 2020 season on March 26th, its earliest start other than international games. The schedule also features an April series in Puerto Rico between the New York Mets and Miami Marlins. The commissioner's office said all 30 teams could play on opening day. Globe Life Field, the new home of the Texas Rangers, opens March 31st.
UNDATED (AP) _ Oakland Raiders receiver Antonio Brown has lost his grievance with the NFL over his use of an old helmet that is no longer certified as safe to use for practice or play. Brown has not participated in a full practice for the Raiders after starting training camp on the non-football injury list with injuries to his feet that reportedly came from frostbite suffered while getting cryotherapy treatment in France.
UNDATED (AP) _ A federal judge has approved an amended settlement in a class-action concussion lawsuit against the NCAA that will establish a 50-year medical-monitoring program for college athletes. The 2011 suit reached an initial settlement in 2016, but the plaintiff opposed the agreement since it did not address damages.