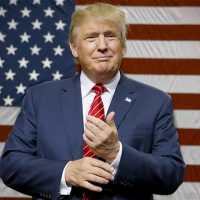 LOUISVILLE, Ky. (AP) — President Donald Trump will speak to a military veterans group's annual national convention next week in Kentucky, where he is also headlining a fundraiser in support of Republican Gov. Matt Bevin's reelection campaign.
AMVETS said Trump will speak Aug. 21 in Louisville, where more than 2,500 veterans are expected at its convention.
The Bevin fundraiser is also in Louisville. The incumbent is being challenged by Democratic Attorney General Andy Beshear in what's shaping up as a close election.