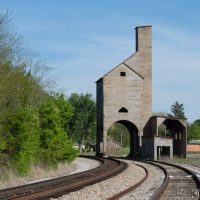 8/13/2019—The Irvington City Council approved the first reading of an ordinance setting tax rates for the current year at a Special Called Meeting Tuesday evening.  The real and personal property tax rate is 46.6 cents per $100.00 valuation, and the motor vehicle tax rate is 32 cents.  The ordinance passed by a 4-0 vote.  Council members Olivia Burdette and Pat Logsdon were not in attendance.
In other business, the Council approved three Maintenance Department vehicles as surplus property.  They are a 1985 bucket truck, a 1977 dump truck, and a 1995 F-150.  They will be sold at auction on September 10.
The Council made no motion to approve the second reading of an ordinance relating to financial reporting to the Council.  The ordinance will not go into effect.
The Council approved a pay increase for Financial Advisor Mona Drane.  Her hourly rate will increase by $5.00 to $25.00 per hour.  The issue will be revisited in October.
The Council approved a change to the personnel policy for Holiday pay, effective July 4, 2019.
The Council tabled clarification of an ordinance dealing with mayoral spending under the newly adopted procurement plan.
The Council then had a discussion with several concerned residents regarding the termination of City Attorney David Mour.  Residents stated that a letter sent to Mayor Yvonne Kennedy, signed by four council members, prior to the regular August meeting, did not serve the interests of the city.  Citizens stated that a conflict between the Mayor and Council members did not help the situation.  Several people stated that there was a need for better communication between all parties.  It was agreed that Mayor Kennedy and Attorney Mour would meet, to try to come to an agreement.  As a result, the first reading of an ordinance reallocating funds to create a City Council Attorney position, was tabled.