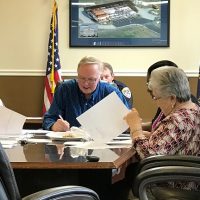 8/12/2019—The Hardinsburg City Council approved the first reading of an ordinance setting tax rates for the current year at their regular meeting Monday evening.  The real and personal property tax rate is 33 cents per $100 assessed valuation.  The Fire Department tax rate is 3 cents, and the motor vehicle tax rate is 28 cents.  All rates are the same as last year.
Mayor Wayne Macy announced that the City has received a $400,000 Transportation Alternatives Program Grant from the Kentucky Transportation Cabinet.  The city must match the grant with $80,000 in local funds.  The money will be used to upgrade and repair sidewalks throughout the city.
In other business, the Council approved the second reading of an ordinance amending the personnel and pay classification plan.  The vote was 4-1, with Council member Susan Shelman voting "no".  Nettie Parker did not attend the meeting.
The Council approved a bid by Mago Construction Co. of Bardstown to resurface and patch 18 city streets.  The City has approximately $84,000 in budgeted funds for the repair work.
Veolia Project Manager Mike Masterson told the Council that the water line extension project on Morton Brown Road and Browns Hideaway will begin October 1.  The expected completion date is March 28, 2020.   In a related matter, the Council approved a resolution authorizing an assistance agreement between the City and the Kentucky Infrastructure Authority.  The authority has loaned the City $760,280 for the water line extension project.
Police Chief Mike Robinson said his department made ten misdemeanor arrests in July; issued six citations, and worked six accidents.  Officer Thomas Young has completed Firearms Instructor Training.  Robinson said officers will patrol Locust Street for possible speeders.
David House said the Fire Department made 45 runs in June, and 55 runs in July.
Veolia Project Manager Mike Masterson said twelve new customers were added to the water system in July.  The Council approved a request by Masterson to surplus a 2001 Chevrolet Pick-Up truck.
In personnel matters, Mayor Wayne Macy told the Council that City Clerk Holly Fowler resigned effective July 29.  Melissa Lucas has been named Interim City Clerk.