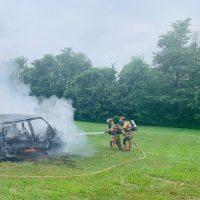 HARDINSBURG (08/11/19) — Hardinsburg Fire Department crews were dispatched to a vehicle fire at the 500 block of Old Highway 60 in Hardinsburg around 3:15 Sunday afternoon. 
Units arriving on scene found a fully engulfed van behind an apartment complex. Crews quickly extinguished the blaze within minutes of arriving.
It was determined that the owner of the van was cutting up the vehicle for scrap metal causing it to catch on fire.
No one was hurt.