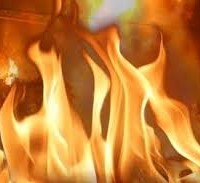 IRVINGTON (07/11/19) — Four area fire departments were called out to battle a garage fire on Sinking Creek Hill early Thursday morning.
According to Harned Assistant Chief Kenny Mattingly, units from Harned, Webster, Irvington and Hardinsburg were called to the 8900 block of East Highway 60 just before 4am, where the first units on-scene found a wooden garage with two vehicles inside fully involved. The building was a total loss, but a nearby residence was not affected.
A cause of the fire was undetermined, with the State Fire Marshal's office notified.
Units remained on scene until just after 5 this morning.