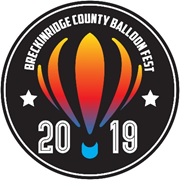 HARDINSBURG (05/09/19) – More than a dozen hot air balloons are expected to brighten the night sky on Friday, June 14in the area's first-ever Balloon Glow. 
The Breckinridge County Chamber of Commerce and Airport Board are working with world champion balloonist Nick Donner, a UPS pilot, to organize the event, which will be free to the public. 
Gates will open at 5:00 p.m. with the balloon glow at dusk, or around 9:00 p.m. Hot air balloon rides will be available for a charge. . If the weather doesn't cooperate, the event will be held the following day on Saturday, June 15. 
You can call the Chamber office at 270-756-0268 for more information.