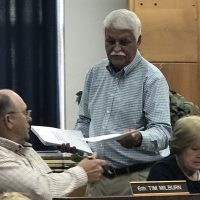 4/15/2019—Judge Executive Maurice Lucas gave each magistrate a copy of the proposed budget for FY 2019/20 at the regular meeting of Breckinridge Fiscal Court Monday morning.  There will be a Special Called Meeting of the Court on Monday, April 22, at 9:00am to discuss the budget.
At the beginning of the meeting, Nicole Naugler addressed the Court.  She said that her family has been harassed for several years and has received no help from the Breckinridge County Sheriff.  Judge Lucas said the matter should be resolved in the Court system.
Magistrates accepted $67,554.36 in excess fees from the County Clerk.  They also accepted the audit for January 1, 2017 to March 31, 2017, for the former County Clerk.
Meredith Dubree, Executive Director of Breckinridge United, presented the third quarter financial report.  She listed accomplishments, such as Atlas Machine locating near Garfield.  She noted that the organization is seeking possible industrial sites.
Magistrates approved the application for a Cops Grant, estimated to be between $20,000 to $25,000.
The Court took no action on a bid for the HVAC system revision at the Judicial Center.
A bid of $2,000 by the Ohio County EMS for a Breck Central surplus ambulance was approved.  A Sheriff's Department 2005 Nissan was approved as surplus property.
The Court accepted the Soil Conservation budget of $855,820.96.
The Court approved a resolution adopting an agreement with the Kentucky Transportation Department totaling $1,565,858.92.  A resolution to transport non-public school students was approved.
A fire service agreement for the Judicial Center totaling $2,278.93 was approved.
Jeff Robbins and Tom Winchell were nominated to serve on the Hospital Board from the 2nd District.
Judge Lucas read a proclamation declaring May 2 as a World Day of Prayer.
In personnel matters, Ronald Todd Howell and Tyler Scott Dudgeon were hired as full time Road Department employees.  Joe Wilson, Larry Allen, and Donnie Tipton were hired as seasonal help.  John Sosh was hired for Grounds Maintenance.  Maureen Suxberry and Wendell Sones were hired as dispatch employees.  Nikki Anthony was hired as Pool Manager.  In addition, lifeguards, and gatekeepers at the pool were hired.  Grant Riley was hired as Chemical Manager at the pool.
Magistrates approved a request for the Road Viewing Committee to inspect Patriot Shores Lane.
The current inmate population at the Detention center is 225.