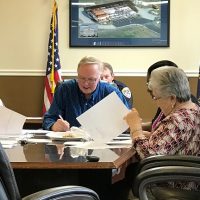 HARDINSBURG (04/08/19) — The Hardinsburg City Council approved a request from the St. Romuald Catholic Church move a waterline currently installed across it's cemetery property during Monday night's meeting. Mayor Wayne Macy told the council prior to approval the church will cover the engineering, construction and associated costs.
The council gave authority to the Mayor to sign Municipal Aid agreements with the Kentucky Transportation Cabinet to receive funds totaling over 46-thousand dollars for maintenance and construction on city-maintained streets. The panel also approved permission for Macy to apply for excess TAP money in hopes of filling in gaps in city sidewalks along Old Highway 60. Local governments have until early May to apply.
Planning and Zoning Director Glenn Jackson addressed speculation over what may be going in along Old Highway 60, saying he doesn't know specifics, but it was likely some form of a fast food restaurant was likely moving into the location.
Police Chief Mike Robinson reported the department responded to two theft reports, with 8 arrests (4 felony, 4 misdemeanor), three citations, three non-injury accident and 152 calls for service. Fuel-cost saving efforts have reached nearly $1,000 for the year. Macy reported a lawsuit involved an incident from a couple of years ago involving taser use by the department had been tossed out by the courts with no appeal filed, so the matter is considered closed.
Reports from the fire department and Veolia Water were either and or accepted by the council.
A request was made for action to deal with speeding along HomePlace Lane. Chief Robinson said they would radar along the road. A question was asked about when heavy item pickup would take place. It was reported that normally occurs in late May, but the numbers of calls for pickup have been decreasing.