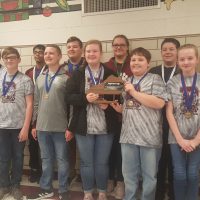 ELIZABETHTOWN (02/02/19) — The Breckinridge Middle School Quick Recall team has advanced to the Governor's Cup State Finals next month in Louisville after winning the regional championship this past weekend in Elizabethtown.
Team members include Caden Lucas, Claire Thornhill, Wesley Horsley, Taylor Smith (8th graders); Om Patel, Alexander Robbins, Jakob Norsworthy, Katie Magness, Alexandrea Morris, Gracie Bishop, Elliot Tapp and Carsen Moreland.
In addition, Lucas (Composition and Science), Smith (Social Studies), Patel (Social Studies, Math), Thornhill (Arts and Humanities) and Cameron Willoughby (Language Arts) advanced to State in written assessments, with Lucas and Smith claiming first-place honors in the region.
The Governor's Cup State Final will be March 16th through the 18th at the Galt House in Louisville.