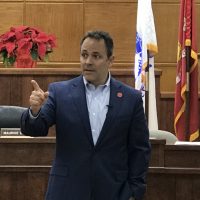 HARDINSBURG (01/08/19) — Governor Matt Bevin visited Breckinridge County on Tuesday for a forum to hear from local residents, but a good portion of the session centered on pension reform.
Bevin explained why it's important to address the issue…
He called on lawmakers to have the "intestinal fortitude"  to pass reform during the current session, asking residents to contact to express support.
A plan was approved in 2018 session amid protests by the state's teachers, but ultimately tossed out by the State Supreme Court. Bevin attempted to call a special session of the General Assembly in December, but the session ended as leaders said the issue was too complicated to pass in a short session.
Bevin was joined at the event by Lt. Governor Jenean Hampton along with several Cabinet secretaries.  In addition to the reform, issues such as economic development, health and foster care, high speed internet access and hemp production were also discussed during the two-hour event at the Breckinridge County Courthouse