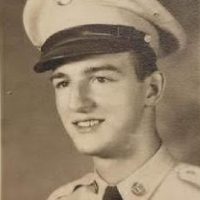 FRANKFORT  (12/04/18) – Gov. Matt Bevin has directed that flags at all state office buildings be lowered to half-staff on Wednesday (12/05) in honor of Army Private Robert J. Sipes, Jr. of Irvington, who was killed in action during the Korean War but whose remains were only recently identified.
Sipes died on Nov. 30, 1950,  during heavy fighting between the Chinese People's Volunteer Forces (CPVF) and the 7th Cavalry Regiment near the village of Unsan, North Korea. His remains were processed through a 7th Cavalry Regiment Collection Station on Dec. 1, 1950, and interred at the United Nations Military Cemetery (UNMC) Pyongyang on Dec. 2, 1950.
On Aug. 17, 1954, the United Nations Command (UNC) and North Korea, along with the CPVF, reached an agreement regarding the recovery and return of the deceased. The agreement, known as Operation Glory, resulted in the turnover of 4,200 sets of remains to the UNC, including more than 400 sets reportedly disinterred from Pyongyang. One set of remains, designated N-16678 could not be identified, and was subsequently interred at the National Memorial Cemetery of the Pacific in Honolulu (known as the Punchbowl), as an Unknown.
In June 2017, Defense POW/MIA Accounting Agency (DPAA) disinterred Unknown X-16678 for identification.
To identify Sipes' remains, scientists from DPAA and the Armed Forces Medical Examiner System used mitochondrial DNA (mtDNA) analysis, dental, anthropological, and chest radiograph comparison analysis, as well as circumstantial and material evidence.
The remains were positively identified last month and returned for funeral and burial.
Funeral services for Pvt. Sipes will be held at 12 noon (EST) on Dec. 5 at Alexander Funeral Home (509 Spring Street, Irvington), followed by interment at Bethel Cemetery (State Highway 333, Bewleyville).
Although flags statewide are presently at half-staff to honor former President George H.W. Bush, Wednesday's flag lowering will also honor Pvt. Sipes.