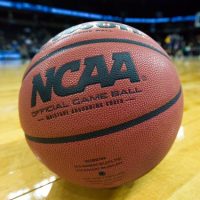 UNDATED (AP) — Bam Adebayo had a double-double and swatted away the final shot on Sunday as Kentucky sent Wichita State to yet another second-round heartbreak, 65-62 in the South region.
The youngest team in the NCAA Tournament grew up in the closing minutes.
Adebayo had 13 points and 10 rebounds. De'Aaron Fox had 14 points, including a late steal and dunk. Malik Monk blocked a shot and made a pair of free throws in the final 13 seconds. Adebayo clinched it by blocking Landry Shamet's 3-pointer shot at the buzzer to earn a re-match with UCLA in the South Region semifinals.
The third-seeded Bruins rode Lonzo Ball's 19 points, nine assists and seven rebounds to a 79-67 win against Cincinnati. Bryce Alford had 16 points and hit four of UCLA's 11 3-pointers. Jarron Cumberland had 15 points to lead the Bearcats.
Moe Wagner  scored a career-high 26 points and the seventh-seeded Wolverines picked up their seventh straight win by rallying for a 73-69 win over Louisville. The outcome puts Michigan in the NCAA Midwest Regional semifinals in Kansas City against Oregon.
The Wolverines trailed 45-36 with 16:09 remaining before Wagner hit a layup to ignite a 17-6 run. Michigan took the lead for good on Wagner's 3-pointer with 6:39 left.
D.J. Wilson had 17 points and Derrick Walton Jr. had 10 points and seven rebounds for Michigan.
Oregon barely escaped the same fate as Louisville. Tyler Dorsey nailed a go-ahead, 3-point with 38.4 seconds left before the Ducks completed a 75-72 victory against Rhode Island. Dorsey finished with 27 points on 9 of 10 shooting, while Dillon Brooks added 19 points for Oregon.
Michigan wasn't the only No. 7 seed to win on Sunday.
Second-seeded Duke was knocked out by South Carolina as Sindarius Thornwell pumped in 24 points in the Gamecocks' 88-81 stunner against the Blue Devils. The Gamecocks trailed by 10 points early in the second half before earning a trip to New York for the East Regional semifinals. Chris Silva led South Carolina's comeback by scoring 13 of his 17 points after intermission.
Also in the NCAA Tournament:
— Josh Jackson contributed 14 of his 23 points in the second half as top seed Kansas rolled to a 90-70 romp over Michigan State. The Jayhawks led by just one in the second half before Jackson scored eight of their next 10 points to put Kansas up 64-57. Frank Mason III had 20 points for the Jayhawks, who will take on fourth seed Purdue in the Midwest Regional semifinal in Kansas City.
— Top seed North Carolina saw a 17-point lead become a 65-60 deficit before the Tar Heels rallied in the final 3 1/2 minutes to beat Arkansas, 72-65. Kennedy Meeks had 16 points and a huge tip-in with 44.2 seconds left as North Carolina earned a South Regional semifinal meeting with Butler. Justin Jackson added 15 points for the Tar Heels, including a dunk that capped a game-closing, 12-0 run.
— Johnathan Motley had 19 points and 10 rebounds as No. 3 Baylor topped Southern California, 82-78 to advance to the East Regional semifinals in New York. Manu Lecomte scored all 12 of his points in the final 5 minutes, including a four-point play that put the Bears ahead 69-67. Terry Maston scored 19 points, King McClure added 17 for the Bears, who will take on South Carolina in the next round.