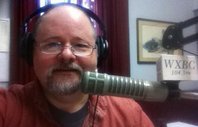 Mike Cummings is a 1978 graduate of Breckinridge County High School. During his senior year, he began his broadcasting career at the old WHIC AM-FM, before moving on to stints in Brandenburg, Leitchfield and Vevay, Indiana.
In 1990, Mike left radio; serving as an emergency medical technician, volunteer firefighter, a 911 telecommunicator, and deputy with the Meade County Sheriff's Department. His assignments within the department included Public Information Officer, K-9 Officer, Drug Abuse Resistance Education Instructor and School Resource Officer. He retired from law enforcement in 2012.
Mike's interests include music, photography, travel, shooting sports and motorcycling.